It is rightly said that Dubai is a hot spot for tourists as well as for other Global Investors. This is possible only due to its unique and amazing architecture, a rich culture, first-class development, attractive fun and entertainment activity spots, appealing business opportunities and ever green economy. Additional to all these attractions, this city is also much popular due to people's investment in Dubai properties. There are many areas in Dubai which demand investment in right term and also give a lot of profits in no time. If you are a keen investor then this is the brilliant time to get profit by investing in Dubai.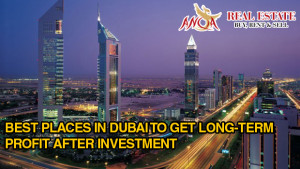 About after 2006, a law was passed by UAE Government, according to this lawany foreigner can invest in Dubai's real estate sector. She/he can rent, sale or buy in Dubai and can earn profit from these areas whenever they want, Due to this law, many small as well as multi-national companies started investing in Dubai and also got a huge amount of profit in no time.
There are several developments in Dubai that offer vast range of reliabilities and luxuries. Below given are the names of few properties where one can invest to get profit in short time. Let's have a short look at following options.
The springs:
This property is present on the famous Sheikh Zaid Road. This is popular because it offers a huge range of 3 to 5 bedroom villas. The community is well-known of its entertainment facilities, landscape gardens and some awesome dining options.
Dubai Marina:
Anyone who have interest in living in Dubai's high class living communities have probably listened about Marin Dubai. This area offer luxury villas with beautiful waterfront view. This attracts a huge number of local or international investors.
Arabian Ranches:
Arabian Ranches is the one of initial freehold property projects in Dubai. It's a peaceful, relaxing and secure area. Yet it's old but still a loved one. It lies in a dessert but have amazing villas and townhouses. It also has the facility of easy access to Dubai Polo Club. There is also the famous Equestrian Club near it.
International City:
Especially for foreigners, this community is best and considered unique one. This area is designed like the traditional areas of different nine countries. You can enjoy culture of these countries at one place. The countries included in this are Morocco, Persia, Russia, China, France, England, Spain and Italy.
There are also some other investing area like Jumeirah Lake Towers, Business Bay, Jumeirah Beach Residence and Discovery Gardens. A close eye should also be placed on new releasing and market happenings by an Investor so that he can invest at a place where he can get a worthy profit in less time.
Above given are some places to invest your money and expect to have a huge amount of profit in no time. These areas are now being more developed and luxurious so that they can become the favorite place of people to come and live with an enjoyable life style.