People driving and living in Dubai are continually exasperated with the increasing in traffic and street closures all through the Emirates, particularly for those people living and driving in the Marina and Downtown area where there is too much traffic chaos due to road closures. For Marina especially, the traffic system in JBR is increasing constantly due to the construction of the new Dubai tramline. While driving the Marina road you never know when the road has been closed due to which your time is wasted for 15 minutes. Could the increase in traffic of Dubai widely affecting the value of the property?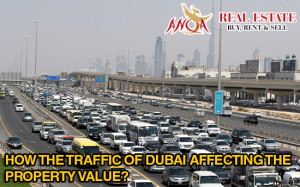 If you are looking to buy or rent a plot or house in Dubai, traffic is one of a major factor in your final decision. Of course, no one of us want to stick in traffic for hours while driving back from office every day, also due to heavy traffic the noise of beeping and engines is a major cause of headache. If you are living in an area of heavy traffic and are thinking to rent or sell it, it is better to make it sound proof before renting or selling it. You can easily do this, by spending some cash and make it sound proof. This can be done by adding different sound barriers like thick, double-lined curtains and door insulation. This will block the noise coming from outside and give you peace of mind and also it will be easier for you to rent or sell it.
When potential buyers and tenants visit your property, ask them to come when there are non-rush hours, like on Fridays or mid morning, as there will be less noise. This doesn't mean that you are going to tell lies in front of your potential tenants or buyers, but also you do not want to lessen the price of your property by inviting them in rush peak hours.
Unfortunately the actual fact is that Dubai is changing a lot and the residents of Dubai must have to accept it. The government of Dubai is working continuously to improve the traffic system and provide their residents every kind of facility so that they can improve their everyday lives. If you have any plan to rent or buy a house in Dubai then you must keep all your worries regarding traffic inside. No doubt the road is really hectic and busy now, but as the tramline is completed and open you will see how the price of your property will increase. Always try looking the other side of the coin.
So now while heading back to home if you stuck in some traffic jam or heard noise due to heavy traffic, then remember that this is for some time and the time is not far when due to all this the value of your property will be double in few years.