Dubai has really become the finest and huge investment hub for real estate world. To tell the truth, the boom in real estate market, of this region, can be estimated as according to the conducted survey, in 2008, Dubai has the largest under construction office space as compare to the other regions of the world. Real estate scenario of Dubai confirms more than 40 million square feet of space, dedicated to offices, is currently under construction that turns Dubai into the commercial hub of the world. On the basis of these statistics, Moscow and Shanghai has almost 2.5 times less space to stock the offices as compared to Dubai. Real estate market of Dubai is not limited to any specific area as offices, apartments, villas, etc. can be found in a variety of locations. These also have brought many real estate brokers and professional consultants into the market of Dubai and UAE.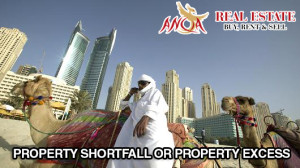 According to the recent news, highlighted in Gulf News, the sudden and recent upsurge has negatively impacted to the Dubai real estate and created a shortfall of office space. These recent expansion in requirement of office space by different organizations have forced them to setup temporary arrangements in different Villas or even in low standard offices. Different organizations and sole-proprietors started searching suitable locations and also started consulting with different real estate agents. Recent expansion of property needs in Dubai has also allowed many agents, without any check, to get into the market. Since 2004 and 2005, Real Estate investments in Dubai has been increasing day by day and this is not only limited to the office space but a huge investment moved towards hotel industry, apartments, shopping malls and so on.
Fake Publicity of Permanent Property Shortfall in Dubai:
Except few good and professional agents, like ANQA, many different real estate agents created hype that Dubai is now facing a great shortfall in the market of Real Estate as organizations need huge office spaces but Dubai has failed to produce the demanded amount of space. These tags are only made to grab the attentions of customers and nothing more. As statistics mentioned above, Dubai has sufficient space to fulfill the requirements of Real Estate industry and these lines are only used by unprofessional agents, who want to sell at high price without any special facility.
Gap Analysis of Dubai Property Market:
Nevertheless, if we analyze the situation deeply, a large number of projects in Dubai are currently under-construction. These projects require a time span of 2 to 10 years and will offer a huge space for offices, hotels, villas, apartments and so on. Organizations and industries might be facing a bit shortfall of property but this should only be treated as a temporary hurdle.
Most of the real estate agents are only aimed to earn and their aims do not stop them to go wrong. Keep yourself up-to-date with the latest Dubai property blogs at ANQA, to know what is currently happening in the real estate at the commercial hub of the world, Dubai, if you want only to be dealt by professionals.